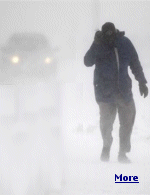 .

Blowing winds (30 or 40 miles per hour) and freezing temperatures kept me in this Iowa casino parking lot, 5 miles from the Minnesota border, for two nights. There was no way I could have driven the remaining 160 miles home until conditions improved.

.

The above paragraph pretty-much tells the story about why I had to stay in the casino parking lot, 5 miles from Minnesota, waiting for darn-near blizzard conditions to go away, so I could continue driving to the safe haven of our Minnesota cabin. Fortunately, I had plenty of fuel onboard to run the generator, and propane to power the furnace. And, if things really got bad, they had a buffet in the casino and blackjack tables.

.

But, like a old boss of mine in the banking business told me once, "Howes, I ask you what time it is, and you tell me how to build a watch!"

The rest of this story is about how you can build that watch.

Leaving Hot Springs, Arkansas, where I'd spent a week in the National Park, the weather was fine, warm down there, actually, but I knew I needed to make tracks to get home before the weather in Minnesota worsened. So, I drove 440 miles to get to 'Diamond Jo's Casino', with the plan to stay overnight there, and the next day it would only be 160 miles to the cabin.

Going 440 miles in one day in a recreational vehicle makes for a long day, normally I like to keep it under 300 miles, and be in camp by late afternoon, or even earlier. In an automobile, moving down the highway is pretty simple, you only have one fifteen foot or so vehicle to worry about, heading up and down hills and changing lanes to pass other cars is no big deal, you've got plenty of power in that little thing.


Advertisement