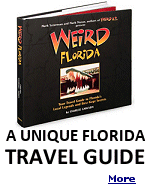 .

Driving the 50 miles from the RV park in Titusville to Orlando would seem like an easy, no stress, drive. It is, until you get about 10 miles from Orlando, when suddenly you are in the middle of chaos, new construction, hairpin turns, exits, on ramps, your two year old GPS is telling you that you're going the wrong way and a front-end collision is in your future.

.

The freeway system around Orlando was a mess, with new construction, and confusing turns and exits, especially if you are driving a 30 foot motorhome and towing a car behind that. I missed a crucial exit twice, and had to go miles out of my way to get back there.

But, eventually I was able to get on the right highway to make it to my favorite RV park there, Bill Frederick Park at Turkey Lake. $23 a night, and it is only 5 minutes away from Universal Studios.

I'd been invited to dinner with my son Tom's inlaws a few miles away, so after getting checked in to the RV park and getting hooked up, I unhooked my Chevy Tracker and headed over to their home. A great visit, Hazel and I had been there many times, very nice people. I even left with some leftovers so I didn't have to cook for a couple of days.

The next morning, son David and his family showed up in the RV park, driving in from Naples, and we headed over to Universal Studios. It was only about 10 in the morning, but already the place was packed.

David and the kids went on some of those terrorizing overhead twisting and turning rides, but not me, I prefer both feet on the ground. But, they had a good time, and I enjoyed watching them whiz by, hoping that the maintenance crew had torqued each and every bolt tightly last night.

The Harry Potter castle was a good experience, the lines weren't too long, and the effect of roaring through the air on a broomstick, trying to keep up with Harry and not get eaten by the flying dragons was plenty exciting for me.

I spent a couple more days at the RV park, resting up a bit, and then headed north about 2 miles into Georgia, for a couple of days at the Corps of Engineers RV park on Lake Seminole. This would be a beautiful location, but nobody told me about the Argentine ants.

Bring ant poison, lots of it.


Advertisement