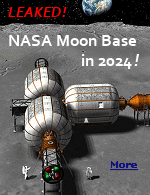 Heading North from Saint Lucie Corps of Engineers campground, a short 85 mile trip to Manatee Hammock RV Park in Titusville, with an excellent location looking across the bay to Cape Kennedy. The tall palm trees in the camping area were amazing, with the ocean just ahead with a long fishing dock. With my binoculars, I was able to see the main buildings of the Kennedy Space Center, my planned destination for the next day.

.

From Wikipedia:

.

The John F. Kennedy Space Center (KSC, originally known as the NASA Launch Operations Center) is one of ten National Aeronautics and Space Administration field centers. Since December 1968, KSC has been NASA's primary launch center of human spaceflight. Launch operations for the Apollo, Skylab and Space Shuttle programs were carried out from Kennedy Space Center Launch Complex 39 and managed by KSC. Located on the east coast of Florida, KSC is adjacent to Cape Canaveral Air Force Station (CCAFS). The management of the two entities work very closely together, share resources, and even own facilities on each other's property.

More

With my $53 senior rate entry fee, I spent the entire day touring the facility, including riding the tour buses, where the videos being shown pointed out the fact that the entire tourist activity here is paid 100% by entry fees, with no taxpayer money involved. The place was packed with entry fee paying tourists, so it must be working. The size of these things we hurl into space is pretty amazing, and I was sorry that no launches were scheduled while I was there. The Musk "Space-X" facility that we drove by was massive, and was the next launch scheduled, later in the month.

This was a good stop on my trip, and I recommend it.

The next morning, I headed to Orlando for a few days, looking forward to visiting my son Tom's inlaws and spending a day at Universal Studios with son David and his family, who will be driving up from Naples to meet me.


Advertisement