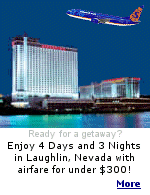 .

Leaving Morro Bay, Hazel and I headed back East, spending two nights at the luxurious Walmart RV Park in Bakersfield, California, then one night at their branch in Barstow, both excellent, without any hassle, and the prices were right.

.

We arrived back in Laughlin, this time with 5 day reservations downtown at the Riverside Casino RV Park, $28 a night, a short walk to the casino, a longer walk down the strip to see the other casinos along the shore of the Colorado River. Our friends from North Dakota, Ron and Jenell, would be flying in on Thursday, and we were looking forward to seeing them.

Our first stop after check-in was to head to the casino to update my player card and get one for Hazel. As a new "gambler" (she doesn't), she was given a "BOGO" coupon for the buffet, which we immediately used, an excellent meal.

On Wednesday, we walked down the main street to have lunch in the "engine room" restaurant (actually called Pints Brewery & Sports Bar) at the Colorado Belle, a unique casino built to look just like a giant river paddlewheel boat. At night, the moving lights on the wheels makes it look like it is actually running, and this should be a stop for you when you come to Laughlin. With temps in the low 90's, on the walk back to the RV park, I decided we'd better drive next time, although the river walk, a sidewalk running along the river behind the casinos is a popular hike, and we'll do it before we leave. You only get so many steps in a lifetime, and I hate to use them up without good reason.

Hazel and I were in the casino on Thursday morning, when the airport shuttle pulled in, Ron and Jenell onboard.We were joined by retired banker and now local resident, our friend Dave for a trip across the street to the Mexican restaurant. Dave, Ron, and I all worked for the same bank holding company out of Fargo back in the mid-1980's. No pensions from that outfit, the owner had a one-man retirement plan, and he was the man.

A pitcher of margaritas was ordered, and lots of talk about old times, who had died, and who was still hanging on. A plan was hatched to break the bank in the blackjack area of the casino later that evening. But, like the best laid plans of mice and men, the casino won.

On Thursday morning, Hazel and I took our tow car and headed for Hoover Dam, about 90 miles north. The gas gauge was down at the quarter mark, but the sign on the gas station across the street said $3.19 a gallon, tourist/gambler pricing, when stations on the other side of the river in Bullhead City were at least 60¢ cheaper. "Heck", I told Hazel, "let's fill-up at the first station on our way out of town". What a mistake that was, there were no stations on our way out of town, and I started to worry, watching that gas gauge as it moved slowly to the left. Hazel checked the GPS, finding a station at the highway intersection 19 miles away, but could we make it, and she started to count down the miles, as that needle edged towards the "E".

Pulling to fill-up was a big relief, the tank finally filled, the pump kicked-off, showing that I'd gotten down to about a gallon of gas with a big empty and hot desert ahead of me. The price? The same as downtown Laughlin, and I didn't mind a bit. "I'll never do that again", I told Hazel, at least not until the next time.

Arriving at Hoover Dam, the security was tighter than any airport. As we drove near, we were stopped by Homeland Security, who looked over our car and waived on towards the dam, parked in the ramp for $10, and then had to go through "airport security",removing belt, everything from pockets, for the xray machine, then walked through and got checked for any metal. There were armed guards in full battle gear with bulletproof vests roaming around.



.

.



Until 9/11 all highway traffic drove right over the top of the dam, but then the push was on to divert traffic and build a bridge, completed in 2010, and security was put in place where hardly any existed before. Taking out Hoover Dam would create a power-outage chaos up and down the west coast of the country.

Hoover Dam construction began in 1931 and was completed in 1935, two years ahead of schedule, and under-budget, probably the last time that ever happened with our government.

As we were about to go into the main building, Hazel got a phone call from our son Tom in Rome. Talk about living in modern technology, and later, as we stood in front of the 1935 statues "Winged Figures of the Republic", our son David called from Florida. No need to travel anymore to see the kids, just get a smartphone, and with the iPhone "Face Time" feature, you can even see them.

Tomorrow, we're heading out on our slow-crawl back to Minnesota where it is still snowing, with temps down near zero some nights. I've got a nice Arizona RV park with lots of very positive reviews on RVPARKY picked out for a couple of nights, then on to Monument Valley, Utah for a while.

Stay tuned.


Advertisement