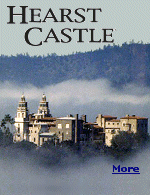 Hearst Castle is perhaps the most popular tourist destination in all of California, and it would be a mistake to be so close and not take it in.

.



Our friend Steve Weaver drove us the 40 miles north from Morro Bay, with a stop in Cayucos for lunch. The visitor center near the ocean had plenty of parking, with buses taking the tourists up the hill to the castle. Good thing, too, the long and winding uphill road would be too much for many drivers. Several tour options were offered, first time visitors were encouraged to take the basic tour for $25, other options were available, where return explorers could get into more of the 130 or so rooms that $30 million could buy back in the 1930's.

Our tour started with a 40 minute documentary "Hearst Castle - Building The Dream", shown on a huge IMAX screen, and it was impressive. Narrated by Donald Sutherland, with actor portrayals of Hearst and other historical figures, you could tell they didn't skimp on the cost of production. I bought a DVD copy to take home.

The bus trip up was part of the entertainment, especially when we met and passed other buses heading down the hill, I don't think those mirrors missed each other by more than a few inches.

So many have written about visiting the castle, and some that I've read are much better than what I could do, including this article in Jetsetter Magazine.

.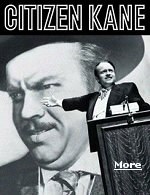 I was talking to one of the employees about the private theatre in the castle, saying "I'll bet they didn't show Citizen Kane", the 1941 Orson Welles film based on William Randolph Hearst showing him to be a real despicable individual, and the guy said "Actually, they did have a showing of that film here a couple of years ago." Old Mr. Hearst must have been rolling over in his grave up the coast in Colma, California that night.

.

Put this place on your bucket list, and to learn more about William Randolph Hearst read the interesting biography posted by the Internet Movie Data Base (IMDB) here.

.

We're heading East in a couple of days, back to Bakersfield, and we're talking about the RV park in downtown Laughlin, Nevada, right across from Riverside Casino. Hazel doesn't get the same enjoyment from casinos that I do, so that stop is still being discussed. We do agree, however, that spending a couple of days in Monument Valley, Utah along the way back to Minnesota would be a good idea, especially when they are predicting at least 9 inches of new snow up there in the Gopher State this week.

Stay tuned.


Advertisement