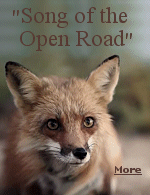 .

"Afoot and light-hearted I take to the open road, Healthy, free, the world before me, The long brown path before me leading wherever I choose." - Walt Whitman (1819-1892)

.

Whitman wrote his poem before the invention of paved highways. If I were following "the long brown path before me" today, it would mean the RV ahead of me has a leaking holding tank.

.



Day 1: Saturday July 1

.

Hazel and I had a breakdown on Interstate 80 this afternoon, about 50 miles into Indiana. Not sure, it might be the tranny, but our noble beast "The Hazel Marie" had to be towed into Michigan City, Indiana, where we are sitting and waiting for the mechanic we spoke with to enjoy his weekend, and of course he'll be off again on Tuesday, the 4th of July. I might be here a while.

.

It is hot, but our faithful generator is purring away (we threw money in that direction last year, so it is running great) and the roof air conditioners are doing their job.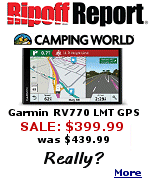 .

I have a love/hate relationship with Camping World and Good Sam, but their roadside assistance program came through today, worth every penny of the hundred dollar annual membership and the two twenties I tipped the tow truck driver.

.

See attached photos. No motorhome should have to bear the shame of being publicly hauled into town backwards for all to see. Darn embarrassing.

.

The auto repair shop will be open for business on Monday morning.

Day 3: Monday July 3

We've been parked here since Saturday, the weather hot, but fortunately the generator performed well to power our two air conditioners. Finally, about 9 o'clock, a young mechanic came out and crawled under the motorhome. He left and came back with several bottles of transmission fluid, poured it in and tried to get it to perform. No such luck. "I'm afraid it's fried", he said, "looks like we're going to have to order out a rebuilt one for you."

A decision was made, Hazel and the two grandkids would take the Chevy Tracker and head for Nashua, New Hampshire, a thousand mile two day trip, leaving me here with the two pooches and the problem to solve. As they pulled out of the driveway, waving goodbye, it suddenly got lonely.

Mid-afternoon came, and I'd heard nothing more, so I went over to the office to learn that a transmission had been located, it would take 3 days to rebuild it in Indianapolis, 2 days to get it here, and another day to get it installed. Then came the estimate of total cost, nearly $7,000, and these fellows, understandably, would like to see half up-front before placing the order. Out came the credit card.

Day 4: Tuesday, The Fourth of July

Another hot day, but cool inside as I burned gasoline in the generator to power the air conditioners. I watched television, checking the Chicago stations 40 miles or so to the West, and seeing more on my new satellite television system, which is now working well after I figured it out.

As long as I'm stuck here, I might as well enjoy it, so I unfurled my awning, set up my gas grill and cooked a steak. The dogs like to watch, hoping for, and getting, their share.

Day 5: Wednesday July 5

Hazel arrived in Nashua last evening, a thousand mile trip, uneventful, with the exception that Hazel says I definitely need to get my tires balanced. My two grandsons, Mitchell age 15 and Divonte age 13 will be flying back from Boston to Minneapolis on Friday. The problem was, the passports and other documents needed to put two minor children on a flight were here with me in the motorhome, I'd forgotten to send them along with Hazel when she left in the tow vehicle. I called FedEx for a pickup and overnight delivery to Nashua, New Hampshire. A problem fixed for thirty or so dollars.

Nothing new to report on my transmission, hopefully some word tomorrow that the company in Indianapolis is working on getting it to me.

Day 6: Thursday July 6

Another hot day in Michigan City, the AC worked great, until my RV 75 gallon gas tank hit the 25% level and the generator killed. (A little safety device to keep you from using up all your gas on the generator out in the wilderness, you have nothing to drive to civilization with, and they find your body in the Spring.) So, I grabbed my 5 gallon container and hiked down a block to the convenience store. An easy trip there, not so easy back, carrying that 30 pounds of fuel.

Later in the day, the mechanic gave me a ride to the station, and we brought back another 15 gallons for the tank, I should be good now for two or three days. Burning twenty or twenty five bucks worth of fuel a day makes those $30 nights in a nice RV park with full hookups seem like a pretty good deal.

I talked to Hazel in Nashua, the Fed-Ex envelope with the passports arrived, so the grandkids should have no trouble flying home to Minnesota on Friday evening. With lots of time on my hands, I decided today was the day I was going to install that LED reading light and digital clock that I've been procrastinating about for a couple of months. My Roman name must have been "Procrasto". An hour later, the job was done. (see photo)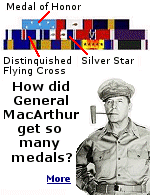 .

More television, with good reception from Chicago to the West and South Bend to the East, and lots of movies and news shows on the satellite. But, I may tackle the biography of General Douglas MacArthur, "American Caesar", now that the reading light is in place. I've been trying to get through that book for about 3 years. I paid maybe $10 bucks for it, now Amazon only has one copy left and they're asking almost $80 for it. Finally, after all these years, an investment that worked out for me.

.

So, I'm gonna' read today. Or, I could take a nap.

Day 7: Friday July 7

An amazing lightning storm
this morning here in Indiana, with a heavy downpour of rain. My pomeranian "Lily" jumped right in my lap to protect me. Later in the day, local television stations warned of flash floods. Normal July rainfall in this area is 3.5 inches, and they got it all today.

Later, when the rain let up, I walked down to a tavern a block away and had a chicken BLT and beer for lunch. The waitress noticed the photo of my old class C motorhome on my Visa card, and said she and her husband had just purchased a motorhome, sounded nice when she mentioned the Mercedes Benz engine that got 20 miles per gallon. I gave her my travel blog card and a $5 tip to help with that hundred thousand dollar purchase. "Oh, not that much", she said, "we got it used".

Mid-afternoon, I went into the mechanic's office and asked if they'd heard anything about my transmission. "No, nothing", the fellow at the desk said. I asked if he'd called, and he said no, but he would.

At closing time, I went back, the owner, Dave, was there, and said the company had finished rebuilding a transmission for me, but couldn't ship it until Monday, that it would take two days to get here, and then two days to install. "You'll have to move to a motel then", he said, "we can't have you in the RV when it's in the garage and we're working on it".

My first thought was what to do with our two aging dogs, Nuggie our 16 year old cocker spaniel, and Lily the 11 year old pomeranian. I inquired again about a loaner car, no dice there, but they'd be glad to rent me one. The Minnesota Norwegian in me declined that offer.

I called Hazel in Nashua, New Hampshire. She'd just spent $500 on our Chevy Tracker there, two new front tires, an alignment, and an oil change. The grandkids would be on the 10 o'clock flight from Boston to Minneapolis that night, and she'd be on the road Saturday, heading back to Michigan City, hoping to arrive late Sunday night. That would work, I'd have wheels on Monday for needed trips to Walmart, the gas station, and the liquor store. If I didn't drink before this adventure, it was a good time to start.

The new plan was for Hazel to leave on Tuesday for Minneapolis with the two pooches, and actually keep her Friday dental appointment that we were going to cancel, I'd catch a ride to the local Super 8 motel, where restaurants were within easy walking distance, and then, when the motorhome was finally ready, perhaps on Friday, I'd get the heck out of Michigan City, never to return.

Day 10: Monday July 10

Hazel pulled in next to the motorhome late yesterday afternoon, driving nearly a thousand miles from Nashua, New Hampshire. Famished, we headed over to "Steak n' Shake", something I've been unable to do all week, not having wheels to drive. A quick stop at Walmart and back to the motorhome. Lily was really excited to see Hazel, who fell asleep after just a few minutes of television, and she slept all night. Driving two thousand miles in a week will do that to you.

.

Over the weekend, I was paid for arranging the delivery of an airplane, a trip I'd forgotten about, so this was really money from above, a rare opportunity to get something on my wish list, an icemaker. The one I was interested in just went on sale at Amazon, and with good user reviews. I have the perfect place to keep it, next to my portable freezer down in a storage bay. $109 with free shipping, and with 5 o'clock coming around somewhere in the world every hour, you can never have enough ice.

No word from the mechanic this morning, Hazel and I are heading out for the laundromat and lunch, and will check with the fellow later today. Hopefully, the new transmission is on a truck heading our way.

Day 11: Tuesday July 11

I was heading over to the dumpster with our garbage when Dave the mechanic caught up with me. "Well, they put the transmission on the truck yesterday, so it should be showing up here later this week." "Where is it coming from?" I asked. "Don't know," Dave said, "they have shops all over the country, but let's get your RV into the shop and start taking the old one off."

Good timing, our fresh water tank was empty, and the holding tanks were full. Hazel and I put everything away, cranked down the antenna, loaded the two dogs, Lily and Nuggie, into the tow car, and headed for the Super 8 motel where she dropped me off. I can't stay in the RV when they're working on it in the garage. I'll be here for a couple of days, Hazel and the pooches will be back in Minneapolis later tonight.

Hopefully, I'll be on the road in the motorhome with a new transmission by the end of the week to catch up with Hazel.

Day 13: Thursday July 13

My second morning at Super 80 motel, (it was "Super 8" back when they charged $8) not much to do, other than enjoy the free continental breakfast, and watch cable television. The phone rang, it was Mark from Dave's Garage. "We've got the transmission in, and it road tests well", Mark said, "but the stabilizer arm got bent from towing it in, and we can either order a new one, which will take a day, or just bend this one back, and you can get another one when you get home". I told Mark to just repair the present one, and I'd take get a replacement back in Minnesota. Everything would be ready to go after lunch today.

It was 11 AM, I checked out of the motel and walked a couple of blocks down to "Olive Garden" for lunch, then called the shop for a ride, Dave himself came over to get me, and as long as he was coming here, he'd ordered lunch to go.

Back in the office, Mark prepared the final bill, a total of $6,953.90, less the $3,400 I'd paid up-front, leaving a balance of $3,553.90. Included in that was a $750 "core charge" that Mark assured me I'd get back, once the rebuilder received my old transmission, and that would be credited back to my card. He also gave me the detailed 100,000 mile 3 year warranty, and explained exactly how that worked. Basically, I call the company, and they authorize the repair or replacement and pay for everything. Not free, but, to me, well worth the $150 they charge for it, replacing the normal 18 month 18,000 warranty. I plan to drive, and sure don't want to pay for this again.

Thanking Dave and Mark for their good service, I was back in the drivers seat, and headed down the street to fill up the 75 gallon tank for the trip back to Minnesota, first night to be the RV park at Amana Colonies in Iowa, a 300 mile drive West on Interstate 80.

Getting past Chicago was pretty normal, God-awful traffic combined with the perpetual construction that goes on in this area, and rush hour was thrown into the mix. But, I made it, and the flow of cars and semis eased the closer I got to the Iowa border.

The performance of the new transmission was wonderful, the motorhome ran like brand-new, confirming my suspicions there was something wrong with the tranny when I bought this beast a year ago. No longer did I have to drop out of overdrive to handle long uphill 2 or 3% grades. With the cruise control set at 55, it just climbed the hill, the tachometer running a steady 2200 RPM, with an occasional drop in speed of only a mile or two per hour. This had never happened before, and it made the trip very enjoyable.

The drive to Iowa was also lonely, no Hazel to talk to, no Hazel to give me driving suggestions, no Nuggie the cocker spaniel napping on the couch, no Lily the pomeranian to look up at me smiling, tail wagging, hoping for an invite to jump in my lap and help drive.

And, when I pulled in to the RV park and opened the door to go register, no BARK BARK BARK from that little devil wanting to go out with me.

While I'm here, I'd like to learn more about the Amana Colonies, and if those stories are true, that the people who build Amana appliances don't have them at home, not believing in modern conveniences.

Could be, now is my chance to find out.


Advertisement