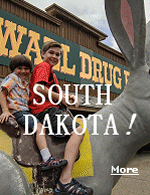 .

The 200 mile trip West from Pipestone to Pierre, South Dakota was scenic, but the wind was gusting 20 or 30 miles per hour from the South all the way. Pierre is the second least-populous capital city, right behind Montpelier, Vermont, and the most invisible. Located down in the Missouri River valley, you don't see the city at all until you're about a mile away. Then, as the highway descends, there it is before you.

.

I'd checked the RV campground directory "Allstays", and Griffin City Park, right on the river, looked good, with several high ratings and the price was right, $16 a night with electricity, with fresh water and a dump station on the premises.

Heading into the city, I saw the "truck bypass" signs, and a warning of a low overpass, 11 feet, 3 inches. Our motorhome is 11 feet, and I sure wasn't going to risk that, envisioning my two new air conditioners being torn right off. I took the bypass.

Finding the park was a bit of a trick, with a vague address shown, but knowing it was right on the river, I just kept driving in that direction, and there it was. Staying one night didn't seem right, Hazel and I wanted to explore a bit, including taking a tour of the State Capitol building. So, we stayed here for 3 nights, had the Mother's Day brunch on Sunday at a nice restaurant, and drove around to see the sights, and, of course, the local Walmart for supplies.

The capitol building was interesting, built around 1900, and modeled after the Helena, Montana version, it was worth the stop. The first thing I noticed was the absolute lack of security, no metal detectors, no guards, nothing. We just wandered around checking everything out. The legislature wasn't in session, but many of the state offices were open and busy, and somehow I wound up in the Senate cloak room with all the numbered lockers. Not sure I was supposed to be in there.

Leaving the building, Hazel and stopped to visit with a man who was headed in, turns out he was the State Commissioner of Lands. I mentioned the lack of security, and he said they didn't have a problem with that, being South Dakota and all. About that time, the Governor walked by.

On the third morning, Hazel and I cranked down the antenna, hooked up the tow car, and headed for the drug store in Wall, South Dakota,110 miles away. Stopping at Wall Drug is, I think, required by law.

We had Buffalo Burgers for lunch, and wandered around the massive store for a while before heading out to our next stop another hundred miles away, Three Flags RV Park near Rapid City.


Advertisement