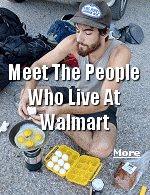 .

Hazel and I left sunny Florida a couple of weeks ago, traveling 900 miles north to Fredericksburg, Virginia to visit our son Tom and his family. The change in weather was a bit of a shock, the furnace was kicking in on a regular basis, with LP gas consumption of maybe 2 gallons a day when nighttime temps went down in the low 30's or even lower.

.

Our daughter Sarah bought tickets to a Broadway play, and wanted Mom to come and visit her at her apartment in New York City. I could have put Hazel on a plane or train down in Florida, but Hazel thought it would be nice just to drive up. I do the driving, Hazel does the riding.

On Sunday, February 12th, after a week in Fredericksburg at the KOA ($50 bucks a night), Hazel boarded the train to New York, and the dogs and I turned and headed South, with no particular plan in mind.

Eight days later, I'm still staying in Walmart parking lots, and can highly recommend the ones in Rocky Mount, Morehead City, both in North Carolina, and Myrtle Beach, Mount Pleasant, Moncks Corner in South Carolina. Absolutely no hassle, all safe and well-lit places to spend the night.

I've got one more night planned back in Moncks Corner, I have an appointment with the local RV dealer to have my generator serviced on Monday morning, just 3 miles from that Walmart. Then, I'll be heading down to the RV park in Hollywood, South Carolina for a couple of days, waiting to retrieve Hazel from the Amtrak station in Charleston.

UPDATE: The mechanic working on my generator needed to order parts, so, I returned 3 miles to the Moncks Corner Walmart, rather than travel 40 miles to the nearest RV park. This makes it nine nights in a row of parking lot camping. I survived the night on battery power, which worked pretty well, including watching television. This morning, I had to make coffee on the gas range, the old fashioned way. Hopefully, the generator will be done today.

The Walmart routine calls for checking to see which stores allow overnight parking, not all do, and then calling the store to ask permission. Unless I'm a hundred miles away, and heading in that direction, I no longer call. Store policies, management opinions, and local ordinances can cause real confusion. I've called stores that the internet shows overnight parking is welcome only to be turned-down cold. Sometimes, they blame local parking ordinances, usually in place to pacify the local RV park owner, or the town may have an inordinate homeless problem, or maybe the store had a bad experience.

I ran into one Walmart that no longer allowed parking because some joker thanked them by dumping his holding tanks before leaving. Imagine cleaning up that mess. Imagine what kind of person would do that.

One afternoon, I pulled into a Walmart lot, saw several RV's parked for the night, and called the store for permission. "No, sorry," the woman said, "we don't allow overnight parking". I told her there were several RV's parked there now, how could that be? "Well", she said, "they didn't ask".

I no longer ask. If there are other rigs parked, or if the Allstays website, or their great smart phone app says parking is allowed, I just park and crank up the antenna.

It might happen some night that I'll have a knock on the door, someone telling me I have to leave, but it hasn't happened yet. I always find a spot far away from the store, at the end of the lot, and try to keep a low profile.

And, I always go in the store and drop a few bucks for groceries and doo-dads.



.



Here are some useful tips for parking at Walmart from "The Long Long Honeymoon":





.




Advertisement