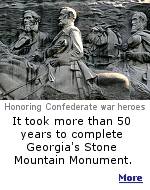 .

For the next week or two, we really don't have a timetable for our travels, other than a reservation in Orlando on the 19th of December for nine days. Instead of just blazing down Interstate 95 from our stop in Fredericksburg, Virginia to visit our son Tom and his family, Hazel and I decided to wander West a bit and see country we've been neglecting.

.

Our first detour was to Asheville, North Carolina to visit a friend and tour The Biltmore Estate. After a couple of days there, we headed South, caught a Walmart or two, a South Carolina state park, and then down to the Atlanta, Georgia area to stay at Stone Mountain.

I'd heard about the Confederate monument for years, but this would be our first trip. The story about how all of this was created would make a movie, it took three different sculptors, including Gutzon Borglum, of Mount Rushmore fame, and the project took 50 years to complete. Now, with the anti-Confederacy feeling in the country, there has even been talk of sandblasting the creation right off the mountain, something that most certainly is not going to happen.



Google will give you a wealth of information on the mountain, including this Wikipedia article.

Winter crowds at the memorial, and the RV park were thin, the real activity here is in Summer. And, it is the same until you get South of Orlando before the tourist schedule flips to busy in winter, dead in summer.

Next stop: a visit to Douglas, Georgia to visit Hazel's cousin and uncle. After that, maybe back to the coast and a stop at Jekyll Island for a few days.


Advertisement