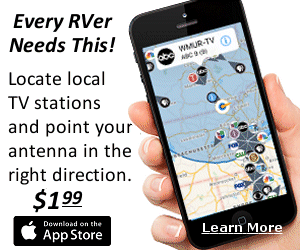 .

Last month, we spent a couple of weeks in Nashua, New Hampshire, parked in my son Glenn's driveway. Glenn even had a 30 amp plug installed for us.

.

Glenn is a computer programmer, i.e. "software engineer", for a company in Cambridge, Massachusetts, but in his spare time he develops applications for the Apple iPhone and tablet, selling them online at the Apple Store..

.

His most popular program is "TV Towers USA", with RVers being his best customers. The application enables the user to find local television stations and show exactly where to point the directional antenna found on most motorhomes, 5th wheelers, and travel trailers.

As Hazel and I travel around the country, we use the program constantly. Pulling into an RV park without cable, or a Walmart parking lot, the first thing Hazel does is crank up the antenna, and position it properly, using our iPhone to find just where the local stations are. When you get to be our age, watching the news, followed by "Wheel of Fortune", and "Jeopardy" is almost required by law.

While we were there in Nashua, Glenn shot a new video about his program, getting me and Hazel and our motorhome into the act. Here it is:



The best dollar ninety-nine you'll ever spend on your RV. Give it a try, and let me know how you like it.


Advertisement