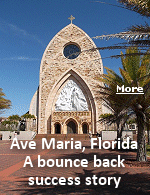 On Sunday, Hazel and I traveled a few miles south of Immokalee to attend Mass at at the church in Ava Maria. A planned community and university launched ten years ago by Tom Monaghan, the founder of Domino's Pizza, who invested $300 million into the project, located about 45 minutes from downtown Naples. Naming both the town and university Ave Maria, exemplifying his conservative Catholic view of life. Caught in the housing recession, only a fraction of the homes and commercial development have happened, but now housing sales are taking off, and the condo developer there reports that all existing units have been sold.

Driving into Ave Maria, you see a well laid out development, where an obvious amount of money has been spent on landscaping. The 100 foot tall church is the center of the community, and can be seen for miles. Impressive.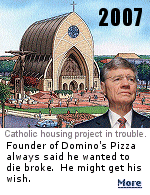 After church services, Hazel and walked around the commercial district, which encircles the church, and had lunch at the "Pub at Ave Maria", featuring a very attractive menu. We recommend the southern fried chicken tenders, a $10 meal that comes with fries and cole slaw, so massive that we actually split one, almost too much to eat. Hazel, a devotee of Reagan trickle-down economics, insisted I tip as if we'd ordered two meals, and I didn't mind, the service was excellent.

We drove around to look at the homes, exceptionally nice, with signs reminding us that prices start in the mid $100's. A google search revealed several articles about the community, that many sales are to commuters to Naples, 30 minutes away, where comparable housing can be twice the price, and, contrary to the what people may have heard, they actually sell homes to non-Catholics. Some areas are "55 plus", but not all, and there is a grade and high school. Residents no longer have to drive distances for gas and groceries with the addition of a gas station and Publix grocery.

All they need now is a nice RV park.


Advertisement